When it comes to retinol, we can remember that this is an ingredient that is mainly used to treat aging and acne problems. If you don't really understand how retinol works and how to use them, this article is for you. Let's go with SHIZENCOS to learn how to use Retinol for beginners in the in-depth article below to have the correct knowledge and get the best results in your skin care routine.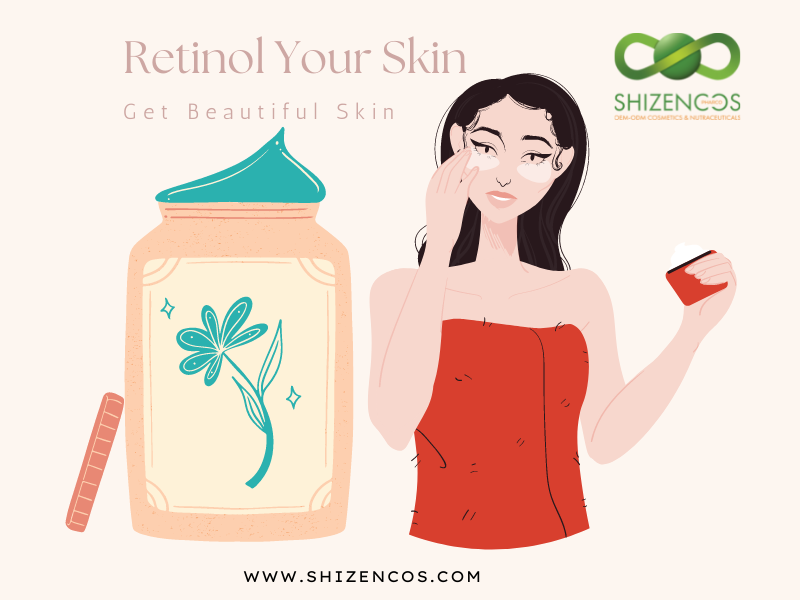 *Uses of retinol in skin care
1. Retinol – Anti-aging skin
To prevent skin aging, not only do we need to moisturize and protect the skin from the sun, but we also need to add ingredients that strengthen and stimulate the skin to increase collagen. And one of those active ingredients cannot help but mention Retinol.
You may not know, retinol's anti-aging properties on the skin are excellent, they minimize skin problems such as dark spots, melasma, dark spots, freckles as well as protect the skin against negative effects from the environment. .
Not only that, Retinol also helps stimulate collagen production, rejuvenate the skin, fade dark spots and freckles, making the skin brighter. Increasing natural collagen production in the skin helps significantly reduce wrinkles on the skin as well as slow down the aging process.
2. Retinol – Improves pore and acne problems
The first outstanding effect of Retinol that has been recognized for more than 40 years is its ability to treat acne. If you've tried every acne treatment and it still doesn't work, why not consider Retinol?
Dirt, excess oil, and dead skin accumulated under pores are one of the common causes of acne. Retinol can unclog clogged pores and reduce oil glands, helping the skin clear and effectively prevent acne from recurring.
Not only that, Retinol also has anti-inflammatory and antibacterial effects, so it is very effective in treating acne.
Retinol is an active factor in removing excess oil, dirt on the skin as well as factors that make pores larger. Oil control and anti-inflammatory will help improve the acne problem you are experiencing when using retinol as a savior for acne-prone skin.
*Basic retinol instructions.
In order for retinol to work optimally on the skin, it is impossible not to pay attention to how to properly care for the skin with retinol. In fact, using retinol for beginners is not complicated at all, you just need to pay a little attention to:
1. Don't forget to apply sunscreen when using retinol on your skin
Even if you don't use retinol, you still need to use sunscreen. Skin is more sensitive to ingredients like retinol. Due to the process of enhancing skin regeneration, the skin peels slightly, the skin becomes sensitive and reacts even more when exposed to sunlight. So when you remember to apply sunscreen during the day, you can protect your skin better, avoiding dark skin, acne or wrinkles.
The simplest but most meaningful skin care action is to apply sunscreen on the skin, which is a protective barrier for the skin and promotes the effects of retinol on the skin better.
2. "Choosy" on the concentration and frequency of using retinol for the skin
Just like choosing the concentration of AHA/BHA to remove dead skin cells for the skin, similar to retinol, you need to have a usage plan with binding concentrations from low to high.
The level of 0.01%, 0.03% Retinol is considered to be the appropriate concentration for skin that is cared for from the beginning and whose skin problems are not too serious to adapt.
You should choose to use retinol in the evening and twice a week. If you do not use Retinol properly, your skin will immediately send a message through external skin reactions and by then the level will be more serious and you need to reconsider your use of retinol.
3. How to use a combination of retinol and AHA/BHA in your skin care routine
You can completely use Retinol with AHA/BHA in one procedure. However, after using AHA/BHA, you should not apply products containing retinol to your skin immediately but need to wait 20 – 30 minutes to do so.
This not only ensures skin safety, avoids irritation and "overfeeding" when the skin is subjected to too many effects of strong active ingredients, but also enhances the effectiveness of Retinol.
Those are the notes for you to have the best guidelines for skin care with retinol. If you already own a retinol product that is most suitable for you, then start taking care of it right away. If you don't have one, pay close attention to the place that sells genuine retinol near you.